Can I pre-order something that is out of stock?
If something is out of stock, there is a chance we may restock it in the future. We can't make sure when is it restock. Feel free to leave us a message on any social media or WhatsApp 016-7927201 to let us know what products do you want to buy so that we can inform you once the products restock.
Can you charge me in my preferred currency?
We will only be able to charge your card in Malaysia Ringgit (RM). You may use paypal to make the payment if you are from other countries.
Can I use bank transfer/Paypal/Duit Now/E-wallet payment method instead?
We are able to process payment by credit or debit card and also accept bank transfer payments for orders. Please choose the bank transfer payment method while checking out and upload your receipt for out reference. You may contact us for DUIT NOW or E-wallet payments. We also accept payments through PayPal.
Can I order by phone or other channels?

We are accepting orders through Facebook Messenger. You may privately message us or comment on our post and we will get back to you as soon as possible. We are happy to take your order quickly by phone too. Please message us 016-792 7201. We may not available anytime but just let us know what products do you want to buy and we will contact you shortly. Please let us know if you encounter any problems with the checkout process and we will help you as best we can.

What if I want to change or cancel my order?
If you need to change or cancel your order, please contact us preferably within 2 hours after your order is placed. We process and ship orders quickly (we're fast!). Once we have processed your order, we will be unable to make any changes.
Why am I receiving double charges on my credit credit/banking cards?
Unsettling, isn't it? Blame the banks. This always happens when your purchase is pending. Wait until the order clears with your bank and you'll see you've only been charged once.
If you have been issued a store credit, You may use the available balance at checkout to make your purchase. Store credits may only be used on our webstore and not redeemable at our physical store.
Are store credits transferable/refundable?
Unfortunately store credits are not transferable and refundable from your account back in cash. Any un-used balance will be returned back to your account.. (E.g.: If you have RM50 in your account and would like to spend RM40, RM10 will be returned to your account and can be used in the next transaction).

Are store credits expired?
Store credits do not have expiry.
How can I get a voucher code?
Sign up to join our email list and keep updated on special sales only available through our newsletter. Every time we have a new sale you will receive an email newsletter with a new coupon code. As a special bonus, when you first sign up for our newsletter you are automatically sent your first sent your first coupon code! Multiple promos and/or coupons cannot be combined. Grab your voucher code here.
Where do I apply a coupon code?
When you are ready to complete your order, go to the checkout page and you will see a box to add coupon code (capital letter) and click on apply coupon button (MUST click on the apply button) .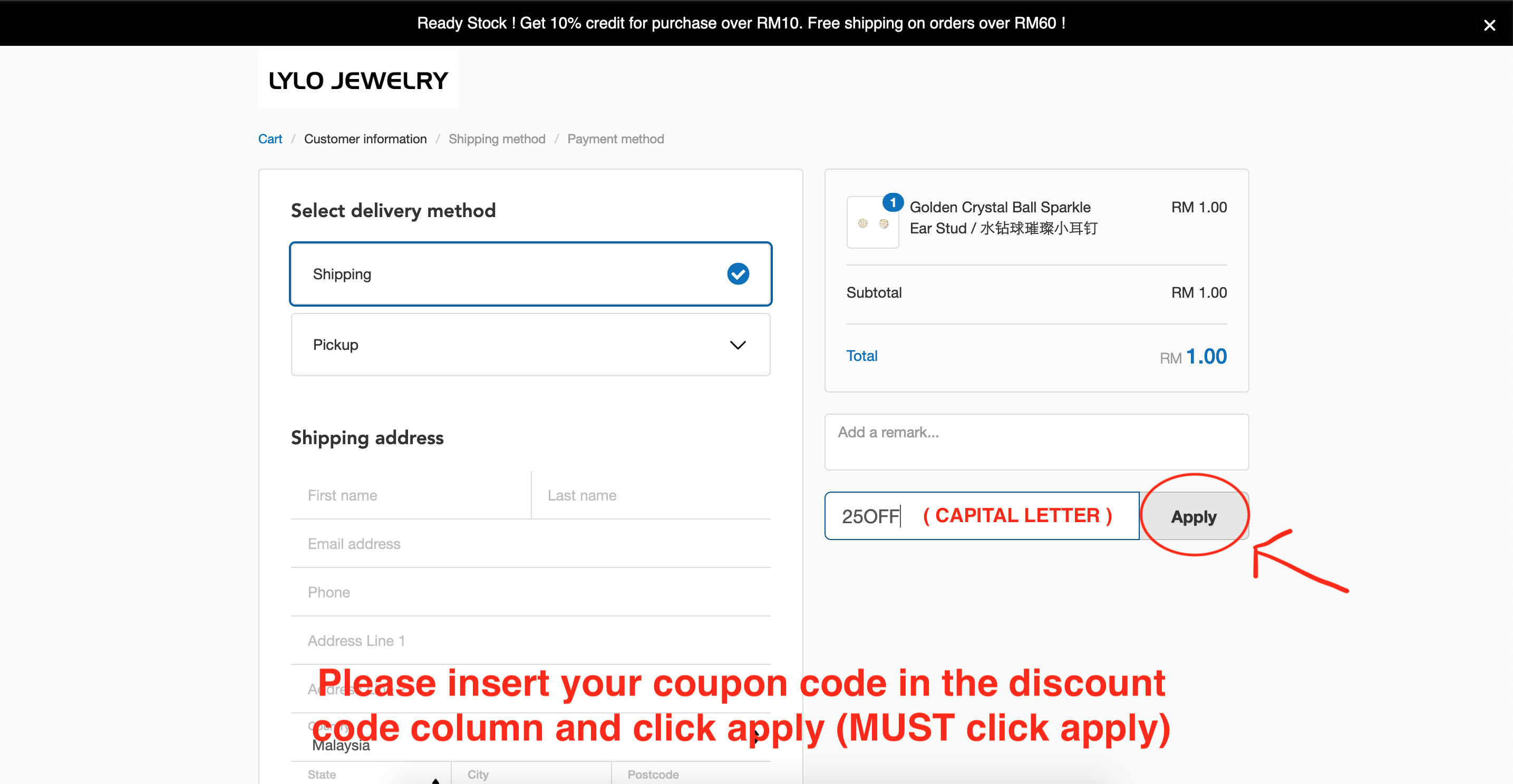 What if i forgot to use coupon code?

Contact us via email at lylojewelry@gmail.com or whatapps us at: 016-792 7201with your order number and we will apply the coupon discount for you.